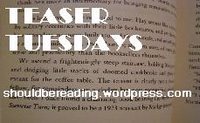 Happy Tuesday!  It's time for another edition of Teaser Tuesday, hosted by MizB at ShouldBeReading.  You know how this works:  pick up your current read, choose 2 teaser sentences for us, and don't post any spoilers — it's that simple!  Be sure to tell us a little about the book, so we are doubly intrigued.
This week, my Teaser comes from The Survivors Club: The Secrets and Science that Could Save Your Life
. This has been a fascinating read so far! It's especially interesting because I fly a lot – a lot – and I wonder about what would happen in a plane crash.  Hopefully, I will never have to use the tips I picked up.  But this particular section, about faith and the role it plays in survival, made me laugh:
"I have learned not to dismiss this kind of possibility," he writes.  "No course in medical school taught me the proper mix of oxygen, IV fluids, and Tibetan chants to treat a subdural hematoma in below-zero temperatures on a 3-mile-high glacier."
That would have to be a pretty specific course, wouldn't it?  Now, tell the good doctor: what's teasing YOU this week?