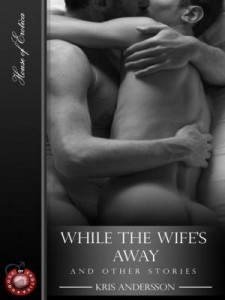 This is not the sort of thing I usually review, but every now and then, a girl needs a little variety! And it's the weekend, so why not have a little fun? I was approached by the House of Erotica with some of their new titles for review. House of Erotica publishes "adult romance" stories — and the bodices get more than ripped. In fact, in the case of While the Wife's Away & Other Stories
, there are no bodices. These are stories about men. Very hot men.
First, the good news: there is some very hot sex in these stories. That's always good. The stories have a theme — men who are cheating on their wives — but they are still varied enough to keep a reader interested. This is a short volume — about 50 pages — but that's a good size for something like this.
There are three stories: While the Wife's Away, Masters and Servants, and The Sins of Father Anthony. In the first, a brief encounter and a wife who's out of town leads to a very hot hook-up. In Masters and Servants, a young man finds an interesting way to avoid collecting unemployment benefits. In the final story, a young man's obsessions lead to a very steamy Christmas celebration.
Now, the bad news: these are stories about men cheating on their wives. That's, well, not my favorite theme. But hey, it's just fiction, and the forbidden adds a little spice to the reading.
It could use a little editing. My inner copy-editor cringed a few times, but a spelling error here and there isn't deadly.
I really have a problem with the last story. I'm not Catholic, I'm not even particularly religious, but there are some lines that shouldn't be crossed. It's more a matter of respect. I admit that it seems a little silly to be bothered about religious scruples when I'm reading gay erotica, but hey. We've all got our boundaries. Right?
My copy of While the Wife's Away & Other Stories
 was an Advanced Reader Copy, provided free of charge.