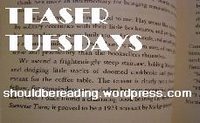 It's time for another Tuesday Teaser! I'm going to have my review of last week's Teasder, Let the Right One In, should be posted tomorrow. In the meantime, I've got a snippet from a really good mystery novel, The Dead Hour.
Now, you know how the Teasers work: Open your current read, pick 2 interesting sentences, and post them here. No spoilers — and be sure to tell us about the book, so we can grab it up!
In this Teaser, Kate is just beginning to realize how much of a mess she has really become:
Kate gasped.  It was too dark for color but she saw black tendrils coming from her nose, a thin black mess with bits, like an octopus climbing out of her nose legs first, a black string across her cheek into her hair, black into her mouth, black all over her chin.
What caused all that?  Check back later this week for my review to find out!