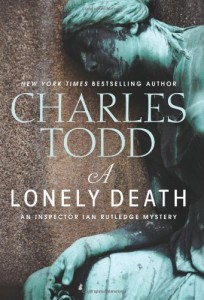 It's always tough to come into a series of books in the middle. I imagine it's hard for an author, as well — to make sure that new readers have enough information to understand the story, without boring your longtime readers.  A Lonely Death
by Charles Todd does an excellent job of involving you in the ongoing story. It made me want to seek out the rest of the series and add it to my TBR list.
A Lonely Death is part of the Inspector Ian Rutledge mystery series. Rutledge is a war veteran with a ride-along: he has the voice of one of his soldiers, Hamish, in his head. As I'm new to the series, it took me a bit to sort out that Rutledge feels a lot of guilt over Hamish's death and the voice of his old comrade nags at him, chastises him, scolds him…and occasionally gives him clues.
Chief Inspector Cummins, Rutledge's mentor, is retiring, leaving behind the files on a cold case that has nagged at him for years. Sadly, he does not leave Rutledge his office and position, as much as he would like to. Rutledge has made some enemies at the top of the ladder, and they will plague him throughout the book.
Someone is murdering men in Eastfield in a particularly gruesome way, a way that seems connected to the war and the Eastfield Company in which some of the men served. Scotland Yard is called in by the well-to-do father of one of the victims, a Mr. Pierce, whose remaining son may be one of the prime suspects. It's a complicated and convoluted story with a number of interesting twists. Through it all, Rutledge struggles along with his guilt and the voice of his dead friend for company.
I enjoyed this mystery very much and I plan to add some of the earlier books to my reading list. Hamish is an interesting character, but one that I think could become tedious after a time. I'm not sure how I would react to him over the long term, constantly tormenting the inspector. The same goes for Rutledge's feud with Chief Inspector Bowles, back at Scotland Yard. A little conflict is a good thing, but it could easily get to be too much.  The secondary plot involving Cummins' cold case is a pleasant distraction and a good mix of investigative skill and serendipity.
There are 12 other Inspector Rutledge mysteries, so it may take me a while to get caught up. If the library has them on audio, they would make a very pleasant summer's listening.
Charles Todd has a BA in Communication Studies as well as a culinary arts degree — so he can write and cook! An excellent combination. According to his website, he writes with his mother, Caroline Todd, sharing a great love of history (and a lizard named Schnickelfritz). He is also the author of the Bess Crawford, battlefield nurse, series.
My copy of A Lonely Death
was an Advanced Reader Copy, provided free of charge.