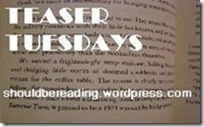 It's Tuesday and time for another Teaser! Teaser Tuesday is hosted by MizB and you know the rules by now: take your current read, open to a random page and share a couple of teaser sentences with us. Be sure to tell us about the book, so we can add it to our TBR list.
This week, I've just finished up Love at Absolute Zero
by Christopher Meeks, and I wanted to share a Teaser with you from it before I start my next book. Fun story — look for the review in the next week or so…
"Lust also lights up the hypothalamus and amygdala areas of the brain.

Romance looks very different from lust in brain scans."
It's nice to know that there are scientific differences between lust and romance. Now, if you could only have taught my ex that!
What's teasing you this week?