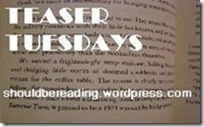 Welcome to another edition of Teaser Tuesday! You know how this works: grab your current read, pick two teaser sentences to share with us (no spoilers, please) and don't forget to tell us about the book. Then, head over to Should be Reading to check out the other teasers!
This Teaser comes from the emergency book I bought in Chicago this week (emergency book = ran out of reading on the plane, had to buy a new book at the airport). I love William Gibson! His author photo makes him look like such a nice, normal guy, but he writes this wild, cutting edge sci-fi that I absolutely love. Zero History
is like a cross between The Devil Wears Prada and John Dies at the End. Lots and lots of fun so far.
"The decorators had kept it down, here, which was to say that they hadn't really gone publicly, ragingly, batshit insane. There was a huge, ornately carved desk, with something vaguely pornographic going on amid mahogany vines and grape clusters, at which sat one or another of the club's employees, young men for the most part, often wearing tortoiseshell spectacles of the sort she suspected of having been carved from actual turtles."
or maybe…
"It's about atemporality. About the industrialization of novelty. It's about deeper code."
Now, you can tell this is gonna be a fun read, right?