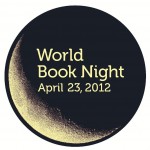 UPDATE: My World Book Night books are gone!
Originally, I was scheduled to be in our West Coast facility this week. A lot of my co-workers there are not big readers and they are not native English speakers, so I figured that they probably read very different books in school and this would be a great chance to give them a book I loved. Instead, I was here in Kent, Ohio without much of a plan. So on a very windy Monday, I headed out to hand out books to random strangers. There are a bunch of folks in Kent who got a tattoo and a free book today!
What a blast! I just headed up and down Main Street and Acorn Alley and stopped in interesting places and gave out books. My first stop was Kent Family & Community Services — I had a donation for them anyway, and I gave books to the receptionist and a couple of people in the waiting room.
I stopped one fellow on the street who was walking along, staring in the window of the used bookstore.
And I want to give a shout out to the other local businesses who were kind enough to let me hand out books:
Empire Artisan Chocolates where I treated myself to a few dark chocolate absinthe truffles for all my hard work!
I definitely want to do this again next year. It was great fun and a chance to give a bunch of people a book that I loved!