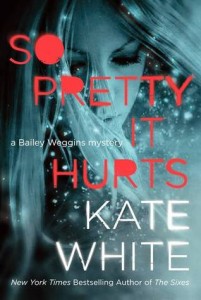 This is my first Bailey Weggins mystery! Bailey is a fun character — a true-crime journalist, based in Manhattan, writing for a celebrity magazine and getting seriously involved with a hot new boyfriend. There's all kinds of material there for fun stories, and Kate White delivers the goods in So Pretty It Hurts
. Bailey's boyfriend is out of town (and Bailey isn't sure she believes his story about it) so she takes off with her good friend Jessie. Jessie has the hots for music mogul Scott Cohen and Scott has invited her and a friend to a weekend house party at his retreat in the woods. It's exactly what you'd expect: a rock star, a couple of models, a couple of journalists…and maybe a murderer.
This was a quick read — lots of fun, interesting characters and just enough introspection to keep it balanced. Bailey is trying to sort things out with her boyfriend, Beau Regan. She says that part of the reason she accepted Jessie's invitation is that she is punishing Beau for being away. That's crazy! If you get invited to a weekend retreat with rock stars and models, you go! Doesn't matter where your boyfriend is, if you ask me.  But Bailey ends up snowed in with a dead model, a depressed friend and someone is lurking in the halls late at night. And once she gets home, it gets even worse.
If you like models and celebrity gossip, you'll enjoy this book. It's a fun mystery with a great setting and a lot of humor. Bailey's work as a journalist gives White a lot to work with and it's a world Kate White knows well – she is the Editor-in-Chief of Cosmopolitan magazine! There's the mystery to solve, her job to save and she definitely needs to work on her relationship. The storylines wrap up nicely and I look forward to seeing what Bailey does in her next book.
If you're looking for another mystery series to add to your library shelves, this is definitely one to check out. So Pretty It Hurts is number six in the line-up, so I've got a little reading to do to get caught up. My copy of So Pretty It Hurts
was an Advance Reader Copy, provided free of charge.