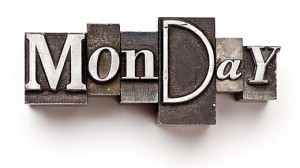 Hello from Cincinnati! I am back in Cinci working on a big project that is going to suck up most of my time. I was ambitious and brought a stack of books with me, just in case I've got some time to read. (I'll be here over the weekend, so I should have a few minutes.) In the meantime, here's what I've got planned…
Monday: my plans for the week!
Tuesday: My Tuesday Teaser. Not sure what I'll be reading, but I'll be reading something.
Wednesday: Today, I've got a bonus review. I completed my review of The Professionals
 by Owen Lukkanen, but for some reason it never posted. So today – BONUS! This is a really fun book.
Thursday: My regularly scheduled review day. This week, I've got a couple of options, so I don't have to decide right this minute. But you should definitely check back for it.
Friday: You just never know what might happen on a Friday.
Saturday: I need to drum up some photos for you for Saturday Snapshot. Maybe something around Cincinnati will look pretty to me.