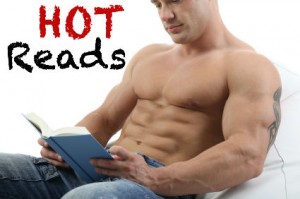 Do you ever read books that get you a little hot and steamy?  If you do, join in Hot Reads and share some of your favorite sexy reads and find some new ones!
Hot Reads is a Monthly Meme, hosted by Book Savvy Babe and Alive on the Shelves, where we get to share our hottest read of the month!  Your choice can be any book, it doesn't matter the genre, the length, whether it's new or old.  If you read it during the month, and it raised your temperature, it qualifies to be aHOT READ!  To make things as simple as possible, Hot Reads will take place the 28th day of the month.  So every month, be ready to share your HOT READ pick!
IMPORTANT: Due to content, this meme is open to participants 18 and older ONLY!
How To Participate:
Pick your HOT READ of the month (ex. on September 28, you pick your HOT READ for the month of September)
Make a blog post sharing your Hot Read pick.  Include in the post: book title, author, HOT READ button, and links to the hosts.  If you would like to include book teasers, book review, etc feel free!
Add the link to your post in the linky  at a host site and visit the other blogs to see what others chose as their HOT READ! (you only need to enter your link 1 time)
As always, don't forget to spread the word! (help us out by tweeting, facebook, etc)
Now, a HOT READ doesn't have to be hard-core or even an erotic read. Maybe the author's photo made you hot! Maybe the cover art — all those broad shoulders and rippling abs — raised your temperature. Maybe there was just a scene or a setting that made you squirm in your seat — those all qualify! After all, we don't all have the same taste in men (or ladies, pick your pleasure), so why should we have the same taste in HOT READS?
My October Hot Read:
Sadly, I have not read any hot books this month! But all is not lost, because some of my email has been pretty steamy! So, I've got something special this month — a chance to win something for your digital bookshelf that will get you all hot and bothered. The good folks at Pink Pepper Press have offered me a couple of copies of one of their new titles for a few lucky readers. All you need to do is leave a comment below and I'll pick 2 lucky winners on Wednesday, October 31st! (Copies can be redeemed from
They sent me a great list of titles, but how could I resist steampunk romance? So my pick to give to you this month is The Falcon's Chase
: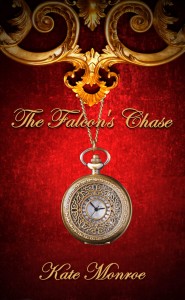 Captain Reuben Costello is just hours away from facing his execution when the unlikeliest of
rescuers storms into his cell. Lady Arianne Dalton needs the assistance of the infamous Black
Swan to flee England and all its constraints. He finds himself more than willing to help the
fiercely independent Ari in exchange for his freedom.
However, when they come to find their fates inextricably tangled in a plot that threatens the
very foundations of British society, they are swept away on a chase that puts not only their
lives, but their hearts at risk – and neither of them can defy the wild and stormy ride they find
upon the Falcon.
So, leave your comment for a chance to win! I'll pick 2 winners on Wednesday, so be sure to check your email!