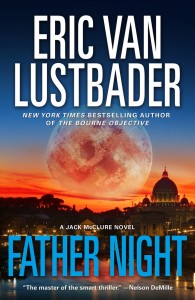 Father Night
 is the fourth book in Eric van Lustbader's Jack McClure/Alli Carson series. These are spy novels with a bit of a supernatural twist. Jack McClure, Department of Defense special agent, has some curious abilities: he's dyslexic, which has to be a detriment for an agent, but his unusual way of thinking lets him see things others miss.  He can solve puzzles that require thinking not just outside the box, but inside, outside, under, over and through the box. Occasionally, when things are particularly tough, he gets some help from his daughter, Emma.
Of course, Emma has been dead for a number of years, but she can still lend a helping hand from time to time.
The series has introduced a number of interesting characters: Dennis Paull, the Secretary of Defense; Edward Carson, President of the United States and his very scary brother, Henry Holt Carson; Caro, the heartless hacker; Nona Heroe,  dedicated police officer; Morgan Herr, who once kidnapped Alli Carson and tortured her; Werner Waxman, psychopath. There s a large, complex plot that has been building over the course of these four novels, and he's not finished yet. From Moscow to Rome to Washington, puppets and puppeteers play their parts and most of these players are not who — or what — they seem.
There is less of a supernatural element in this book, and I generally think that's a good thing. McClure's chats with Emma can be illuminating, but it's a device that could over-used very easily. Jack's bond with Alli has grown over the course of the series, but Alli is less dependent on him, while Jack recognizes her strength. Jack has fallen in love with Annika Dementiev, who is a hot-blooded woman, a cold-blooded killer, and has motives that even Jack's puzzle-solving skills can't unravel. She's an interesting character — they're all interesting characters — and this book takes her in a direction I did not expect.
Like any good spy novel, this is 2 parts totally believable and 1 part completely preposterous. You want to believe that there couldn't possibly be these sorts of cover-ups, secret brotherhoods and decades-old conspiracies operating in our government…but you can't be totally sure about that. Each book — First Daughter
, Last Snow
, Blood Trust
and now Father Night
 — has built on a crazy conspiracy theory involving Cold War legends, Nazi war criminals, billions of dollars in hidden cash, and the legacy of two powerful men: Henry Holt Carson and Dyadya Gourdjiev. Their descendants are left to finish the game, and even four books in, I can't be sure where the next book will lead us.
If you like spy novels, this is definitely a series to check out from the very beginning. My copy of Father Night was a review copy, provided free of charge.  For more about the books, check out the author's website, EricvanLustbader.com