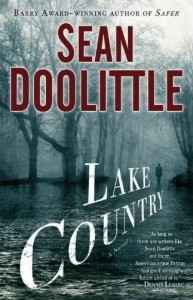 I read Lake Country 
by Sean Doolittle while I was in Key West, back around Labor Day, and for some reason, never finished my review. I found, in my year-end clean-up, a small stack of things I meant to review but somehow never did, and I'm going to try and get those reviews caught up in January.
Lake Country, for me, was about a young man who had lost his way and wanted to do something. Darryl Potter left the Marine Corps, but now he's just drifting — no job, no prospects, and none of the sense of purpose that the Marines gave him. He latches on to a story about the death of a young woman, the younger sister of a man he served with, and decides that this is a wrong he can put right.
Wade Benson, a successful local architect, killed a girl. He was driving home one night and fell asleep at the wheel. He wasn't drunk, just tired. Becky Morse was severely injured in the accident he caused; she lingered in a coma for two days in the hospital before she died. As part of his probation, Wade Benson spends two days every year in jail, the anniversary of the days that Becky spent in her coma.
Potter decides that's not enough, and that Benson should suffer more for what he's done. He decides to even the score by kidnapping Benson's twenty-year-old daughter, Cheryl. His friend, Mike Barlowe, is the only person with a chance to set things right before they turn tragic.
Woven into this is the story of the reporter who first covered the tragedy, Maya Lamb, who finds herself uniquely positioned to be involved in the developing story. She's got plenty of upheaval in her own life to keep her distracted. Potter has other problems that may catch up with him soon, and those problems are armed and dangerous. Barlowe just wants to keep his last good friend out of trouble, preferably while keeping him alive.
I devoured this book — tore through it in two sittings. There was something about Mike Barlowe, more than Darryl Potter, that appealed to me. Also Maya, with her career concerns and her fear that she is getting sucked into the camera and losing touch with her human side, makes an interesting character. There are some funny moments with her, but nothing that takes away from the bigger story.
Benson's story also touched me — it's really the sort of thing that could happen to anyone. I've fallen asleep at the wheel and it's very scary, but luckily I only hit a few bushes. It could have easily been disastrous. He doesn't shirk his punishment, but he is not willing to sacrifice his daughter for it. And his daughter, Cheryl, is a tough cookie. You'll definitely find yourself rooting for her. This is a novel that I highly recommend.
My copy of Lake Country
is a free copy, from LibraryThing's Early Reviewer Program. Check out more of Sean Doolittle's work at SeanDoolittle.com.