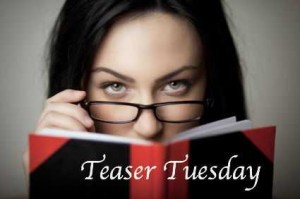 Teaser Tuesdays is a weekly bookish meme, hosted by MizB of Should Be Reading. You know the rules: grab your current read, open to a random page and share a two sentence teaser with us (no spoilers!). Be sure to tell us about the book, so we can add it to our TBR list!
This week, I am back to a book I started last year and didn't finish. It's The Taste of Tomorrow: Dispatches from the Future of Food
by Josh Schonwald, all about the newest trends and technology bringing food to our dinner tables. You know, sometimes, we forget that things that are commonplace today were virtually unknown just a few short years ago:
"In 2000, the average American didn't know what a tilapia was. Some thought it sounded like a venereal disease."
And I had it for dinner tonight. Oh my.
I've got a new policy when it comes to commenting on Teasers: stick to two sentences, or I'm not leaving a comment. Really, this is supposed to be a teaser, not a paragraph! I've gotten annoyed with the people who post 4, 5, even 6 sentences. They're missing the whole point.