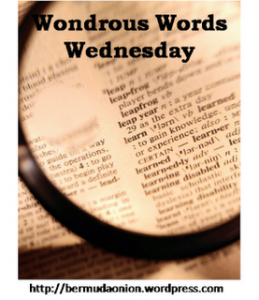 Happy Wednesday — it's time for some new words! You know how this works – share a few words from your current book that you had to look up, then head over to Bermuda Onion's Weblog to learn some new ones.
This week, my words are from Serving Victoria: Life in the Royal Household
by Kate Hubbard, a really interesting book about the men and women who served Queen Victoria. I am learning a lot about life in the royal household – not all of it good!
1. Prinked – dressed or groomed with elaborate care and vanity
"She judged the prinked and preening Leopold, King of the Belgians, 'a very majestic personage.'"
2. Battledore – A game played with a shuttlecock and rackets; a forerunner of badminton
"The Queen took immediately to her new lady-in-waiting, finding her a most 'amiable person', happy to indulge her in a game of battledore and shuttlecock in the Corridor."
3. Pelisse – A long cloak or outer robe, usually of fur or with a fur lining
"She was dressed in a plain white muslin pelisse and a 'droll little Quaker shaped straw bonnet…"
4. Calomel – a white, tasteless powder used chiefly as a purgative and fungicide
"Dr Clark has mismanaged the child and poisoned her with calomel and you have starved her."
Historic novels, whether fiction or non-fiction, are great sources for new words, so I expect more from this one next week!