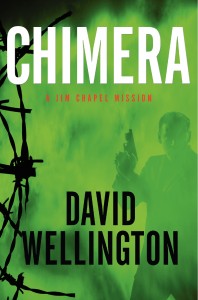 Today, I've got a special treat! I've got an excerpt from a great end-of-summer thriller – Chimera
by David Wellington. Here's a little about the story:
Ten years after wounded Special Forces veteran Jim Chapel returns home from Afghanistan, he is drafted into a new war soil.  A small band of fugitives has escaped from a top secret upstate NY military facility, leaving a trail of bodies in their wake. Four men are loose in America, men with superhuman speed and strength, men carrying a deadly virus, men with a mission: kill an innocent civilian. And they will not stop until their mission is complete.  Chapel is tasked with hunting down the group of escapees and unraveling the mystery behind their existence. Aided by a mysterious woman named Angel and a courageous, beautiful veterinarian, Chapel begins a cross-country hunt to stop the murders. But are the killers really rogues, or are they part of a sinister conspiracy that reaches the highest levels?
Now that sounds like a thriller!
Click below to read an excerpt from the story.