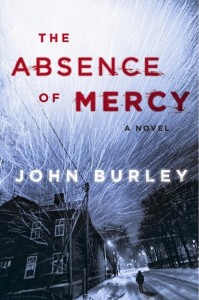 I love a good thriller and I definitely enjoyed The Absence of Mercy
by John Burley. It reminds me a bit of Defending Jacob by William Landay; both begin with the murder of a teenager, and both deal with a father who is a central character in the investigation. In Absence of  Mercy, Dr. Ben Stevenson is the local coroner; his wife is a doctor at the local hospital and his sons, Thomas and Joel, went to school with the victim. As more victims pile up in the city morgue, his family is drawn deeper into the mystery.
The murder mystery itself kept me turning pages. The murders are fast and brutal, shocking to the quiet town of Winterville. Stevenson is worried about his family and their safety, and that clearly puts a strain on his marriage and family relationships. He argues with his wife, he is at odds with his son, and you have to wonder if the tension is caused by the strain of the case — or if there is something more sinister going on. There are some clues, but they are fairly subtle and don't spoil the twists and turns ahead. When a victim survives an attack and is later befriended by Thomas, things begin to get more interesting.
There are some good themes to play with here and Burley does a good job of keeping you guessing, without making the final solution come completely out of nowhere. I hate when that happens! I want to feel that if I went back, read a little more closely, thought more critically about some of the details, I would have guessed the killer well before the ending. I hate hidden paths to the truth that let only the author know what's going on, with no chance for the rest of us.
Burley also takes a fairly common twist (I don't want to spoil it for you, so trust me, it's definitely something you've read before) and turns it on its head. Although I had an idea where he was heading, the twist took a turn I wasn't expecting at all. Definitely made me happy — I love to be surprised by a clever ending.
This one is a good choice for mystery lovers who like a few twists, but also don't like to get too far off the beaten path. I suspect that you'll be seeing this one day soon at your local movie theater — I think I would be a terrific film, lots of cool characters to play with here. I would definitely buy a ticket.
My copy of The Absence of Mercy
is an Advance Reader Copy, provided free of charge.