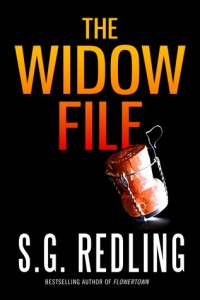 First of all, let me tell you about Kindle First. If you have Amazon Prime
, Kindle First lets you get a free book for your Kindle every month – prior to its release date! Did you see that? FREE BOOKS! (As if I needed more free books.) It's a very cool way to get new books as soon as they are released. The Widow File
by S.J. Redling is the first book I've picked up under the program and I can't wait to see what the options are for next month.
Dani is a Paint. (Didn't mean anything to me, either.) She works for a top-secret security firm, analyzing evidence and details in their investigations.
"Internally, their team went by the designation Paint, so called for their ability to cover every inch of a scene without being noticed."
The firm also employs Faces, who go out and meet with the clients, do the actual face-to-face investigating, and Stringers, who do the dirty work. She works with Fay, a vivacious young analyst and Choo-Choo, a handsome young man that Fay describes as "an obsessive compulsive nerd underwear model." (Why don't I work with guys like that?) An investigation has ended abruptly and Dani returns to work to find men with guns, her coworkers dead and the office under attack. Suddenly, this mild-mannered analyst is on the run from shadowy hit squads and Booker, an assassin hired to make sure that none of her coworkers survived the attack.
Booker is an interesting character. I liked the way Redling gives you an insight into his mind — how a hired killer might think about his targets, what kind of life he might lead. He finds Dani interesting and challenging in a way that most of his targets are not. But Booker is about to find out that even he doesn't know exactly what's going on. He himself might be a target in all this, and his only way out — and Dani's — is to think fast and stay ahead of his opponents.
"He wanted her. He wanted to find Dani. He had to find Dani. That's what he was getting paid for, but Booker knew firsthand the mind and the body found ways to encourage each other that had nothing to do with outside compensation. Sublimation — he knew it by name. Because of the demands of his job and the isolation it required, he sublimated his sexual urges into his professional prowess until picking a lock took on the same allure as unhooking a bra. "
There are some great plot twists and turns in this one, but it wasn't too complicated to follow. The whole thing is a little implausible, but that doesn't bother me much in a good spy novel. (This reminded me more of a spy novel than a thriller.) There are a few twists that you can't see coming, but the ending was very satisfying. Definitely a fun read all the way around.
My copy of The Widow File
by S.J. Redling came from my personal library, through the Kindle First program.