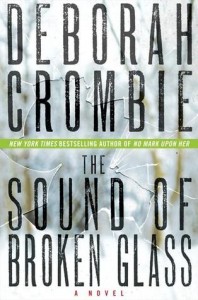 It's been almost 2 years since I reviewed Deborah Crombie's No Mark Upon Her. I really liked the dynamic between the key characters, Duncan Kincaid and Gemma James, so I am really looking forward to reading another book in this series, The Sound of Broken Glass
:
Scotland Yard detectives Duncan Kincaid and Gemma James are on the case in Deborah Crombie's The Sound of Broken Glass, a captivating mystery that blends a murder from the past with a powerful danger in the present.

In the past. . .home to the tragically destroyed Great Exhibition, a solitary thirteen-year-old boy meets his next-door neighbor, a recently widowed young teacher hoping to make a new start in the tight-knit South London community. Drawn together by loneliness, the unlikely pair forms a deep connection that ends in a shattering act of betrayal.

In the present. . .On a cold January morning in London, Detective Inspector Gemma James is back on the job while her husband, Detective Superintendent Duncan Kincaid, is at home caring for their three-year-old foster daughter. Assigned to lead a Murder Investigation Team in South London, she's assisted by her trusted colleague, newly promoted Detective Sergeant Melody Talbot. Their first case: a crime scene at a seedy hotel in Crystal Palace. The victim: a well-respected barrister, found naked, trussed, and apparently strangled. Is it an unsavory accident or murder? In either case, he was not alone, and Gemma's team must find his companion—a search that takes them into unexpected corners and forces them to contemplate unsettling truths about the weaknesses and passions that lead to murder. Ultimately, they will question everything they think they know about their world and those they trust most.