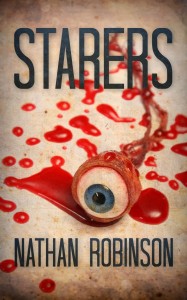 This one is from my personal library, recommended by someone on my Bookapalooza thread, and let me tell you: Starers
by Nathan Robinson is one seriously creepy book! A little horror, a little family drama, maybe a little religion – and a lot of creepy suspense. This was a great one-sitting read.
Dylan Keene is heading home from a night at the pub, his deadbeat brother in tow. Standing at the bus stop across the street from the house is an old man. Dylan doesn't give him much thought – but he's still there the following morning. Even more disturbing is the fact that he's not alone, there are other people out there, staring at the Keene household.
And it doesn't stop. As the day wears on, more and more people gather to stare at them, leaving Dylan, his wife, Kirsty, his daughter, Lucy, and his brother, Lennon, trapped in the house. The Starers don't react to anything. They are in various stages of dress (and undress). There are accidents, but they don't move. They don't eat, they don't sit down, they don't even blink – they just stare at the Keene's house…and every time they look outside, there are more of them.
Creepy enough for you? Honestly, the thought of being locked in the house with my family is bad enough, but creepy staring people on the lawn? No thanks!
There are a few issues with this one. It could use a bit of editing, I think – I found some of the phrasing awkward and grammar issues make me grit my teeth. Still, I had great fun with it, trying to guess what the ending would be. One of the best things about getting books for my Kindle is that for very little money, I can pick up some really cool books – this is definitely one of them.
My copy of Starers
is from my personal library.