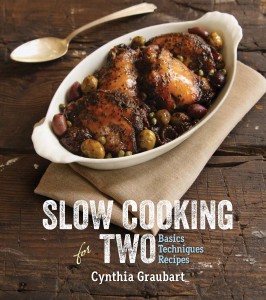 I know a lot of people think of a crockpot as a winter thing – full of chili or pot roast or beef stew. Fact is, a crockpot is great for cooking in the summer. You don't heat up the house, there's not standing over a hot stove, but you still get a hot meal at the end of the day. And you are certainly not limited to stews and chili; you can make seafood, vegetables, lasagna, even bake a cake in your crockpot. I have been having some fun, testing out new recipes for the coming months.
Slow Cooking for Two: Basics, Techniques, Recipes
is a very handy resource for single folks and small families, especially if they are new to slow cooking. There are excellent sections on tips for using a crockpot, cooking times, and equipment. The recipes really run the gamut – everything from Spiced Mixed Nuts (page 136) and Banana Bread (page 126) to Cornish Hen Dijon (page 54) and Mushroom Risotto (page 106). There is a great section of desserts – Vanilla Custard, Lemon Cake and Apple Crisp – as well as a good section on some recipe basics. I never thought of roasting garlic in the crockpot, but you would really get that low-and-slow taste with this method.
In my house, my crockpot is a stock machine – I make chicken stock, beef stock, vegetable stock, all in the crockpot. My favorite method is to throw all the ingredients in, pour boiling water over them, turn the crockpot on low and then go to bed; I wake up in the morning to a house that smells like heavenly and I'm ready to make a terrific soup or stew.
Probably the most interesting section for me was the chapter on "Double Dinners" – basically, take a big chuck roast or pork tenderloin, cut it in half, then make two dinners at once in the same crockpot. Of course, the secret is using those crockpot liners (terrific for sticky, messy dishes). you simply put half the meat in each bag, add the other ingredients, and place the closed bags next to each other in your big crockpot. It's perfect if you don't like eating the same leftovers day after day until they're gone. This way, you've got two entirely different meals.
All in all, a good reference with some great recipes. I like the Potato Gratin, the Pork Tenderloin with Cabbage, and I am looking forward to trying to Spinach Lasagna. My copy of Slow Cooking for Two: Basics, Techniques, Recipes
came from my personal library.