Another title from my personal library, Long Knives
by Charles Rosenberg: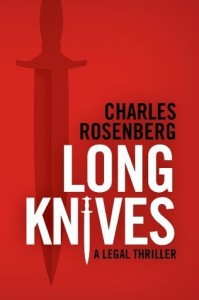 Jenna James's life has been smooth sailing since she left the high-powered law firm of Marbury Marfan. She's happily ensconced as a professor at a prestigious law school, where she's well liked by her students, coupled-up with a handsome colleague, and on track for tenure. But things take a shocking turn one morning when a student, Primo, comes to Jenna's office seeking her advice about a treasure map he recently inherited. When Primo turns up dead and Jenna is suddenly the prime suspect in a murder investigation, everyone turns on her. Desperate for help, she calls on two old friends: Robert Tarza, her old law partner from Marbury Marfan, and Oscar Quesana, an odd-duck solo practitioner. The three race to save Jenna's career—and perhaps her life—in this whip-smart thriller of treasure maps, murder, and law school politics.