This one looks intriguing! The Ghost Bride
by Yangsze Choo: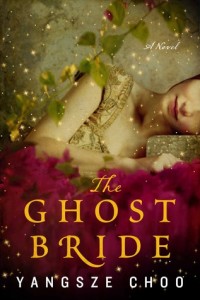 Li Lan, the daughter of a genteel but bankrupt family, has few prospects. But fate intervenes when she receives an unusual proposal from the wealthy and powerful Lim family. They want her to become a ghost bride for the family's only son, who recently died under mysterious circumstances. Rarely practiced, a traditional ghost marriage is used to placate a restless spirit. Such a union would guarantee Li Lan a home for the rest of her days, but at a terrible price.
After an ominous visit to the opulent Lim mansion, Li Lan finds herself haunted not only by her ghostly would-be suitor, but also by her desire for the Lim's handsome new heir, Tian Bai. Night after night, she is drawn into the shadowy parallel world of the Chinese afterlife, with its ghost cities, paper funeral offerings, vengeful spirits and monstrous bureaucracy–including the mysterious Er Lang, a charming but unpredictable guardian spirit. Li Lan must uncover the Lim family's darkest secrets–and the truth about her own family–before she is trapped in this ghostly world forever.