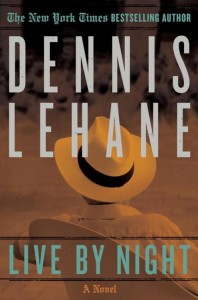 There's a bit of a story behind my reading of Live by Night
: I picked up the audiobook from the library months ago – probably closer to a year ago. I sped through the first 9 cds and then…lost it. I brought it in from the car, set it aside, and it disappeared. I was furious! Ransacked the house, went through all my suitcases, the car, called the hotel I'd stayed at. No luck. Cut to this past week: I spent my vacation doing a thorough cleaning and decluttering of my spare bedroom, and guess what I found? Yep. I was finally able to finish!
Live by Night tells the story of Joe Coughlin, and it is a big story. Joe starts out the son of a law-and-order police captain in Boston. He abandons his father's teachings to be an outlaw, to live outside the law, first as a petty thief, and later as a gangster. What I loved most about the novel was the range of stories: Joe as a petty thief who falls for a pretty girl he meets during a robbery; Joe as a tough guy in prison, standing up to the made guy inside; Joe as the King of Ybor City, using a lot of native smarts, cunning and ruthlessness to corner the rum trade; and Joe as a gangster, family man and gentlemen farmer in Havana, Cuba, building a baseball field for the boys who work in his tobacco fields. They are big stories and even though Joe is a very bad man, you can't help but root for him – not to get back on the straight and narrow or give up his outlaw nature. No, you find yourself hoping that his latest criminal scheme will work out, that he can keep his employees safe, that he doesn't end up in a pair of cement shoes.
In part, the story is propelled by Joe's love of two different women. Emma is the pretty girl he meets during a heist, the kind of woman that men will do anything for. She makes Joe take crazy chances, chances that end badly for Joe. Later, Joe meets Graciela, a head-strong Cuban woman who helps him build an empire in Prohibition-era Florida.
When I first picked up this audiobook, I raced through the first 9 cds, before that little interruption I mentioned. When I had it back in my hands, I popped in disk 10 and I was right back in the story; I didn't even need to go back for a refresher. Do you have any idea how unusual that is? I have stacks of books that I've read, reviewed, and a week later I can't remember the name of the main character. Live by Night engaged me in a way that few books have recently. The stories and characters stayed fresh in my mind months later. I wish every book I read was so compelling.
My one complaint is that the book seemed to end very abruptly. I kept running back through the CD tracks, thinking it must have skipped a track. But looking back, the abrupt end made sense, in the context of Joe's life.
What balances that complaint is that I can look forward to seeing the book on the big screen. Ben Affleck will directing and is apparently working on the screenplay. I'm not sure I picture Ben as Joe, but I have confidence that he can do a great job with it. Sadly, we'll have to wait until 2016.
My copy of Live by Night
 came from the Kent Free Library, and I think they will be very happy to finally have it back!