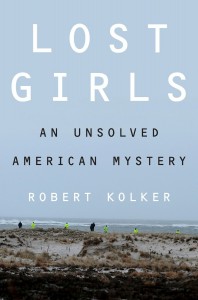 First off, let me say that Lost Girls: An Unsolved American Mystery
by Robert Kolker was not exactly the book I was expecting. I enjoy true crime novels and I have always been fascinated by the procedural part of the story – how the authorities track down their killer. In this case, the killer was never caught and it looks like the police threw the procedures out the window. This book is truly about the victims and while it is not what I normally look for in a true crime story, it was all the more fascinating for putting the crime on the back burner.
"Over the course of three years, each of these young women vanished without a trace: Maureen in 2007, Melissa and Megan in 2009, and Amber and Shannon in 2010. All but one of their bodies were discovered on Gilgo Beach, Long Island, an unsettled, overgrown, seven-mile stretch of shoreline on the string of barrier islands along South Oyster Bay."
These young women are the center of this story. Some of them came from pretty troubled backgrounds. They had children, family and friends. They had pretty serious addiction problems. And they were all working as prostitutes, advertising on Craigslist.
What impressed me about the book is that these young women do not become stereotypes. They are not woman battered by a pimp or empowered feminists taking control of their bodies. They are young women who need money, who don't have any great job prospects, and who find prostitution an easy way to make a lot of money in a short period of time. These women don't deal with pimps. They advertise for themselves. They decide where and when to work (and the amount of work they can find with a simple Craigslist ad is astonishing), and while they make some provisions for their own safety, desperation can make people careless.
What infuriated me about the story is the way that authorities treated the disappearances: they didn't care. A hooker disappeared – big deal. In some cases their families were unable to file missing person reports and it was clear that authorities did not consider these women to be worth looking for, at least not until the bodies started piling up. There were so many bureaucratic errors in these investigations, so many oddities, so many times where the police were clearly looking out for themselves and not really pushing these investigations that you can't help but be frustrated for these women and their families. In the end, they still have no closure; they have lots of suspicions, but no definitive answers.
It takes a skilled author to write a compelling book without an ending, and I think Kolker did an excellent job. I certainly kept turning pages, alternately absorbed and furious, and I found myself very much engaged with these women and wanting justice for them. He doesn't whitewash their stories, so you still get angry at them for putting themselves in so much danger for a few bucks, but you still wish for a better ending for them.
My copy of Lost Girls: An Unsolved American Mystery
is an Advanced Reader Copy, provided free of charge.