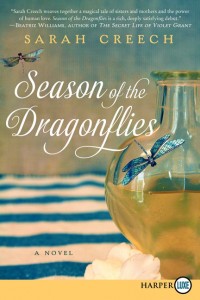 Season of the Dragonflies
 by Sarah Creech was a great end-of-summer read. It leans more toward chick-lit than my usual choices. There are some interesting plot twists and a good build-up, but the big finish fell flat for me.
This is the story of the Lenore women – ever since their matriarch made a bold decision and ran off an amazing adventure, they have nurtured a secret business, deep in the Blue Ridge Mountains. They cultivate a unique flower, a gardenia brought back from the Amazonian jungle, and turn it into the most expensive perfume on Earth. It is sold only to a carefully selected female clientele and it brings them wealth and power and success. Actresses, politicians, artists, CEOs – they have made their mark on the world with the help of the Lenore women and their secret elixir.
But now, their empire is in jeopardy. Youngest daughter Lucia is home from New York, mourning her failed marriage and failing career. Elder daughter Mya, groomed to take over the business, is plotting behind her mother's back and making rash decisions. Their mother, Willow, can feel it all slipping away from her, and the news gets worse: the flowers are dying.
For me, the most interesting part of the story was the interaction with the two young actresses receiving the perfume. There's real trouble brewing and the women are making some bad choices. The romances seem a little too convenient and the big climax a little contrived. While these women have managed their business for decades, suddenly things will grind to a halt without men in their lives – I really find that hard to swallow. I'm all in favor of romance, but this isn't really what I was looking for.
My copy of Season of the Dragonflies
 was an Advance Reader Copy, provided free of charge.