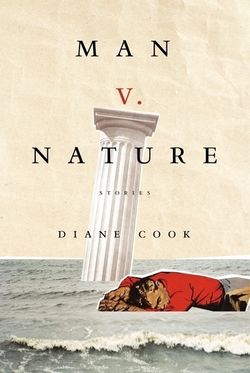 Man V. Nature: Stories
by Diane Cook is a fascinating book of short stories – the kind that keep you thinking long after you finish reading. The stories present impossible situations — truly impossible situations that you can't imagine happening in real life. In "The Not-Needed Forest, a 10 year old boy is told he is "not needed" and is sent off for incineration. Huh? What parents would allow this? Why is it only 10 year old boys who are deemed "not needed"? Why not girls or 12 year old boys? It's a completely improbable situation, but he waits on the front lawn for the bus and off he goes – how could that possibly happen? The way the characters navigate these strange circumstances makes for really intriguing reading.
In "Moving On" my first thought was that this was an impossible situation that some people might really be drawn to. Our main character is a recent widow, and after a very brief period of mourning, she is sent off to a sort of boot camp for widows and widowers. (Her home and all the belongings she shared with her husband are sold and the proceeds become part of her dowry.) She gets counseling to help her get over the loss of her husband as quickly as possible. She is encouraged to get in shape, learn new hobbies, make new friends, all with an eye towards attracting a new spouse. Her spouse will choose her (and her dowry) from among a batch of profiles and she gets no choice in the matter.
In another favorite, "Somebody's Baby," a woman comes home from the hospital with her new baby to find a man lurking in the yard — a man who plans to steal the baby. This is a perfectly normal occurrence; some families lose two, even three babies before the man moves on to other families, but when the new mother suggests protecting their children and fighting back, she is ridiculed and shunned by her neighbors.
I find myself thinking about these stories, even as time passes. What would I do if clothes and trinkets began turning up in my washing machine? Why would a woman become fixated on a perfectly ordinary weatherman? What mother wouldn't want to retrieve her stolen children? I think  that's really the measure of a book like this — how long do the stories stay with you? How often do you find yourself thinking about them? What new insights have come, weeks down the road? If a book can keep me thinking and questioning, I will definitely be recommending it to my friends, and I will certainly be recommending this one.
My copy of Man V. Nature: Stories
 was an advanced reader copy, provided free of charge.