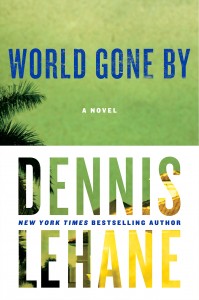 I am becoming a Dennis Lehane groupie – that's all I can say. I loved The Drop. I loved Live By Night. And I loved the final book in the Joe Coughlin trilogy, World Gone By
. This was a story that really drew me in, the kind of book where you keep re-reading pages, going back to an earlier section because you want to hear those words one more time. You can't wait to see where the story is going, but you don't really want it to end.
At the start of World Gone By, Joe Coughlin is a single father, a widower after the death of his beloved wife, Graciela, raising his 10 year old son, Tomas, on his own. His career has taken a surprisingly traditional turn- he has retired and become a consultant, a consigliere to the crime families that dominate South Florida. With his help and advice, the families are making money. Their businesses are thriving. Joe has no enemies. So why has someone put out a contract on him?
There is something unsettled in South Florida and Joe can feel its effects. He begins to see a ghost, a young boy who shows up at odd moments, in crowds or alone in Joe's office. (In one of the most disturbing scenes of the book, Joe tells his doctor about the ghost. After Joe leaves the office, the doctor confronts his own demons and they are not pretty.) Dion Bartolo, may be losing his grip on the business – people are beginning to notice his vices. Rico DiGiacomo, Joe's long-time friend, may be keeping his own secrets. Even Joe's love life is unsettled, and the pressure is building. Joe wants to keep Tomas safe, but he's not willing to run and hide. He knows the game and he knows the players, but the rules are changing.
Joe Coughlin is a bad guy that you can't help rooting for. Whoever has put the hit out, you want Joe to figure it out. You want Tomas to be safe. You want Joe to be able to protect his friends and sniff out his enemies. You can't really say that Joe does the right thing, but there are flashes – like when he doesn't kill Loretta in Live By Night, even though it would be safer and easier – but you read the pages of World Gone By with a nagging feeling that Joe has missed something, that there is trouble headed his way and he may not be able to dodge the bullet this time.
This one was hard to put down. This is the final book in the Joe Coughlin trilogy and it is remarkably well done. There is no judgement here – yes, the characters are gangsters and killers, but that's not the point. They are also fathers and husbands, wives, brothers, and friends. The mob might be run by criminals, but it's a business; you take orders from the people in charge and someone is always watching the bottom line. The problem seemed to be that Joe wanted to live some semblance of a normal life as a retired consultant, raising his son, tending to his investments, maybe taking a new wife, but he wasn't in a normal situation. This wasn't the kind of story for that.
Currently, Ben Affleck is directing and starring in the movie version of Live By Night. I love the women they've cast so far – Zoe Saldano as Graciella and Elle Fanning as Loretta. Easy to picture that cast. I'm hoping they decide to adapt this novel for the big screen, as well. I can easily imagine turning this into an amazing film.
My copy of World Gone By
is an Advance Reader Copy, provided by the nice folks at William Morrow.