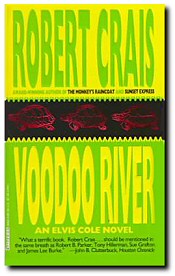 I do love a good detective novel. Anyone who has taken a peek at my library knows that I love
mysteries
. I've got a full set of Nero Wolfe novels (including the cookbook), a full set of Spenser novels, and a smattering of other interesting detectives as well. But what to do since Archie and Mr. Wolfe won't be coming out with any new adventures? Obviously, I needed a new private dick, and Elvis Cole is the man for the job.
Actually, Robert Crais' Elvis Cole has a lot in common with Robert B. Parker's Spenser and Rex Stout's Nero Wolfe. All are thoughtful and intelligent. Cole and Spenser are strong and capable without being thugs. They have a definite sense of honor about what they do and how they treat their clients. And they all have tough-guy partners (Pike, Hawk and Archie Goodwin, respectively) who aren't afraid to get blood on their hands. Obviously, it's a formula that works.
In Voodoo River, Cole is hired by television personality Jodie Taylor to find her biological parents. Turns out, Cole is not the only one looking – and his client has been less than honest about her real motivations. It's good example of the formula above – Cole has a great deal of respect for the emotional aspects of the case, he is determined to do the right thing and when that means possibly comprising his client, it is not a decision he makes easily. He's willing to bend the rules, although he tries not to break them, but he is not willing to walk away from real injustice. And, of course, he gets the girl. In fact, in the few books I have read in this series, Cole always gets the girl – sometimes more than one of them.
The series is fun, the mysteries are well thought out and Elvis Cole is a charming, if conflicted, hero. I've read two in the series so far – Voodoo River and The Monkey's Raincoat, but I'm sure more and more of them will be showing up in my library. I've already recommended him to some fellow mystery lovers.