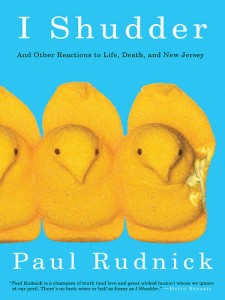 Paul Rudnick is one of those names that I was complete unfamiliar with, until I read his book. As he told his stories, I kept thinking "oh! I remember Sister Act!" "I've heard of Allan Carr!" "He wrote The Addams Family? I never knew that!" It was part discovery, part reunion, full of funny bits, a little gossip, and some entirely fictional chapters that were, perhaps, my favorite parts. It is wickedly funny, even — maybe especially — when recounting the worst stories. All in all, it was a pleasure to read.
I Shudder isn't exactly a memoir, although it's full of funny stories about his family, his Hollywood contacts, the plays he's written and the people he's met. Between these stories, there is also a (hopefully) fictional memoir, "An Excerpt from the Most Deeply Intimate and Personal Diary of One Elyot Vionnet." Elyot is a bizarre character, a semi-retired substitute teacher living in a perfect studio apartment that almost overlooks Gramercy Park. One worries about what he might be teaching those impressionable young minds:
As this is my most deeply intimate and personal diary, I am assuming that it will one day be introduced into evidence at my trial.
Surely I can't be the only one who goes to the movies but never remembers the name of the screenwriter. Paul Rudnick was involved with some very funny movies, but I had never heard his name. Frankly, even if I had, it might not have helped. There is a long chapter devoted to his involvement with Sister Act, but his name does not appear when I check my source for all things movie-related, IMDb.com. Still, he tells great stories about bringing the original treatment of Sister Act to producer Scott Rudin and how they originally met with Disney, and snagged Bette Midler in the lead role. A host of meetings later, this nice Jewish boy was on his way to a convent in rural Connecticut for some hands-on research.
In the end, Bette Midler didn't star, Whoopi Goldberg was very funny as Deloris, but Rudnick has never been able to bring himself to watch it.
Renting a wonderful Gothic apartment that was once the retreat of John Barrymore inspired a play, I Hate Hamlet, about a young actor living in the same apartment, working on the role of Hamlet and being visited by the ghost of John Barrymore. The downfall of the entire play is choosing Nicol Williamson – an unfamiliar name but a very familiar face — to play Barrymore. Rudnick makes Williamson's utter disintegration both funny and tragic. He gives Allan Carr much the same treatment — Carr is a flamboyant, extravagant character, and Rudnick knows him in both high times and hard times.
In between chapters full of stories so funny you wonder if they're fiction, you'll find some actual fiction. The story of Elyot Vionnet is the very best sort of dark, sarcastic humor. His campaign to make Hallie Tesler stop talking on her cell phone is utterly ruthless — and it does not have quite the intended effect. His stint as Mr. Christmas (and his various holiday visitations) require a certain sense of style:
I instantly donned my tuxedo, a garment which still appears sleek and fresh, although it has been passed down through over eighty generations of Vionnet men, and, of course, Great Aunt Vestra Vionnet, who wore the family tux to bewitch half the women of Bucharest. No, Vestra was not Europe's first lesbian postmistress, but she was the first one to get it right.
In I Shudder: And Other Reactions to Life, Death, and New Jersey
, the fiction and non-fiction go well together. The stories are great — his mother and her crazy sisters, his partner John, his time at the Chelsea Hotel. Chapters sped by and I laughed often enough (and loudly enough) that people at the airport asked what I was reading. I always think that's a good sign.
My copy of I Shudder: And Other Reactions to Life, Death, and New Jersey
by Paul Rudnick was an Advanced Reader Copy, provided free of charge.