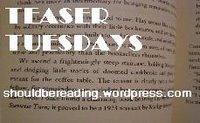 Welcome to another episode of Teaser Tuesdays!   This week, it's a teaser even for me:  I finished my last book at 11:30 last night, picked up my new one this morning and this teaser is the first thing I read.  Now I can't wait to get into the rest of the story!
You know the teaser rules:  open the book at random and choose a couple of teaser sentences.  No spoilers, please, and be sure to tell us a bit about the book.
My new book is Little Bird of Heaven by Joyce Carol Oates.  I've both loved and loathed Oates over the years and I am anxious to see what category this book falls into.  The teaser I chose is a newspaper headline (and not a spoiler — the same info is in the synopsis):
SPARTA WOMAN, 34, FOUND BEATEN, STRANGLED
Death of Local Bluegrass Singer Investigated by Police
Focus on "Men Friends" — "Visitors"
Now, Sparta reminds me of the old tv show, In the Heat of the Night, but in this case it's a small town in New York.  I am looking forward to the rest of the story!
What's teasing YOU this week?