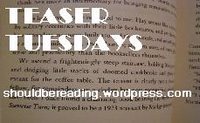 Good morning and welcome to another edition of Teaser Tuesdays!  You know the rules:  take your current read, open to a random page and give us two teaser sentences.  No spoilers, please, and be sure to tell us more about the book.
This week, it's Wake Up Dead by Roger Smith.  I have to say that I am not loving this book – a very violent story about crime, revenge and gang wars in the Capetown ghettos.  I am curious enough about the story to finish reading it, but I'm not completely engaged so far.
Roxy is having a rough week.  She's been carjacked, her husband is dead and she is being targeted by an assortment her husband's enemies:
Roxy lay on her back, trapped between the front and read seats, the ugly man on top of her, forcing the gun barrel into her mouth.  He stank, and a drop of sweat fell from his forehead onto her cheek, where it rolled down like a tear.
Like I said, a pretty rough week.  What's teasing YOU this week?