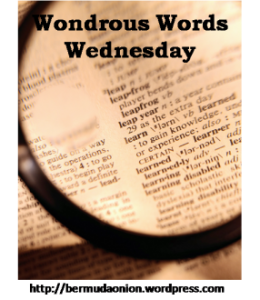 Well, technically I have about 20 minutes to get this posted and still have it hit the shelves on Wednesday, so I'm going to do my best.  I had a couple of good words this week and I didn't want to miss out on sharing them with you.
My words this week come from Little Bird of Heaven by Joyce Carol Oates and Wake Up Dead by Roger Smith.  Wake Up Dead takes place in Cape Town, South Africa, so I could have chosen a dozen foreign and slang words, but I tried to avoid that.
1. Interregnum – the time between two reigns, governments, etc.
"Years ago, my father had moved from Sparta, in that interregnum of confusion and nightmare…"
2. Ellipsis – narrative device of omitting a portion of the sequence of events, allowing the reader to fill in the narrative gaps
"…a way of indirection and ellipsis, suggestion and not blunt statement…"
3. Zozo hut – a garden shed
"Lying there, staring at the framed photograph that hung on the wall of the wooden zozo hut – all that was left of his mother, dead these fifteen years."
4. Shebeen – an illegal drinking establishment
"Goddy was at Five Star.  A White City shebeen."
Interesting words, I think.  What new words did YOU learn this week?