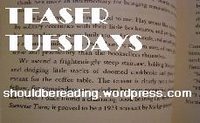 Good morning and welcome to another Teaser Tuesday!  You know the rules: open your current read, pick 2 teaser sentences and share them with the world.  No spoiler, please and be sure to tell us a little about the book.  That way, we can be first on the request list at the library.
It's been a slow reading week, so I am still finishing up John Dies at the End
by David Wong. I am still loving every minute of this book! There are so many great quotable lines! Today, I'm posting a couple of my favorites — a couple of lines that made me laugh and laugh, and I don't care much that they are not entirely family friendly. Consider yourself warned:
'John, let me make one thing clear,' Jim said, cutting me off in his most stern, evangelical voice. 'Every man is blessed with his gifts from the Lord. One of mine happens to be a penis large enough that, if it had a penis of its own, my penis's penis would still be larger than your penis.'
I don't think I've ever had a Teaser that used that word, that many times! But it made me laugh — hopefully, you're laughing, too.
What's teasing YOU this week?