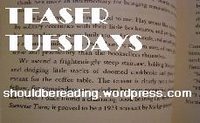 Happy Tuesday!  This promises to be a fun reading week for me — I am already caught up in my current read and I am listening to a great audiobook to go along with it.  What could be better than 2 great books at once?
You know how the Teaser works: take your current read, open to a random page and share 2 teaser sentences with us.  (The whole fun of the thing is trying to find just 2 sentences that give you a flavor for the story.)  No spoilers please, and  be sure to tell us enough about the book that we can run out and buy it.
This week, I am all aflutter over John Dies at the End
 by David Wong.  So far it is a totally psycho journey into…well, I'm not quite sure where we're going.  It's one of those books where I could quote half the text from the book and any pair of sentences would make great teasers.  So to make it easy on myself, I decided to just use the first 2 sentences of the book:
Solving the following riddle will reveal the awful secret behind the universe, assuming that you do not go utterly mad in the attempt.  If you already happen to know the awful secret behind the universe, feel free to skip ahead.
Now, isn't that a promising beginning?  You just know interesting things are going to happen!  Be sure to check back next week for my review.
What's teasing YOU this week?