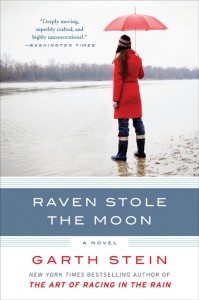 In Raven Stole the Moon
, Jenna Rosen walks away from a life that is fractured. Two years ago, her young son drowned in a tragic accident at a resort in Alaska. Her husband seems to have moved on, but Jenna cannot let go of her grief. On the anniversary of their son's death, they attend a party that turns out to be Jenna's breaking point. She walks away from the party, gets in her husband's car and drives…straight through to Bellingham, Washington. She gets on the ferry and heads to her home town of Wrangell, Alaska — and straight into a mystery.
Jenna and her husband, Robert, had a romantic courtship and a happy marriage, but all that changed when Robert got involved in an investment group that was building a resort in Alaska. While visiting the resort, their son, Bobby, dies and nothing is ever going to be the same. There are issues of blame, issues of money, and very different ways of dealing with grief. Robert shoves everything deep down inside and buries himself in his work, while his wife finds a therapist with a handy prescription pad. They don't realize how far apart they've grown, until they find themselves truly far apart.
Jenna receives a strange gift on the ferry and meets an old Tlingit woman who tells her a story about the kushtaka, a shape-shifting spirit who usually appears as an otter. According to legend, they save endangered swimmers from drowning; you can see why the story appealed to her. She will have to come to terms with her son's loss in a very dramatic way, and at the same time, decide if she and Robert can save their marriage.
Author Garth Stein takes the fractured family story and stirs things up. He adds a healthy dose of mysticism; Alaska is full of legends and stories from a variety of native peoples. When I visited there several years ago, every store, every restaurant, every person I met had a story to tell. Many of the people I met believed in the traditional legends and stories — and not just the elderly or people living on the fringes. It is a community that seems both modern and ancient and I can easily imagine the way these myths might act on a distraught woman. While the legends come to life for Jenna in a very real way, the novel is not all ghost story — Robert and Jenna live in the modern world and they have modern problems to deal with.
It's a very interesting story — I was fascinated by the mythology and I was caught up in the family's story. They were both suffering, it had been a terrible loss and it had driven a wedge between them. I was curious to see how, or even if, Jenna and Robert could find their way back to each other.
This isn't exactly a new novel from Garth Stein, author of The Art of Racing in the Rain. This is actually a re-release of his first novel, written 13 years ago. It has to be a really interesting experience to look at something you wrote so long ago. According to the afterword, the only real change he made was cutting out a lot of foul language. Stein's mother was born in Wrangell, Alaska, and he is registered with the Central Council of the Tlingit and Haida Indian Tribes of Alaska. He has based portions of the book on the stories he heard from his aunts and uncles.
My copy of Raven Stole the Moon
was an Advanced Reader Copy provided free of charge.