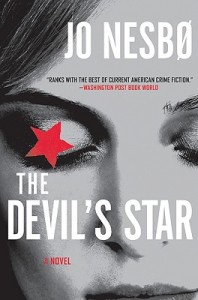 There's a heatwave in Oslo. Anyone who can't get out of the city is sweltering in the heat. There are lines at the open-air pool, the city streets are deserted…and there is a killer on the loose.
Police investigations are apparently much the same the world over, as I didn't find a lot of procedural confusion in Jo Nesbo's The Devil's Star
. It's good, gritty detective fiction — just the way I like it. Harry Hole is a police inspector who is on his way down and out. His drinking problem has started to take its toll: he's lost his girlfriend and he's about to lose his job, but he may be the only person who can solve this string of killings.
The Devil's Star has a story that is seriously twisted. The story moves backwards and forwards, there are interludes with unnamed characters and plenty of foreshadowing to give you hints and still keep you guessing. Much of the tension comes from the strained relationship between Hole and his partner in this investigation, Tom Waaler. To the police brass, Waaler is a model cop and one of the best detectives on the force, but Harry is convinced that Waaler has a dark side. He believes that Waaler is involved in a smuggling ring, perhaps with ties to more sinister activities, but he's been unable to make a case against him. The obsession has ruined Harry's reputation in the department and this may be his last chance to shine.
There are important clues that tie the crimes together: all the bodies have a severed finger — a different one in each case — and each victim was left with a red diamond, shaped like a five-pointed star. The papers are having a field day (it's the summer holidays are there is not much else to talk about). The guns used are untraceable, the diamonds didn't come from any local jeweler, and there is a chance that this is all tied into the unmakeable case against Waaler.
Harrry is the only one in the department to have experience chasing a serial killer, but he's not in the best of shape. Harry's a drunk. He shows up to work drunk, when he bothers to show up at all. His apartment is a mess. His very promising relationship has ended, and he's about to flush everything important to him down to the tubes. It makes him a very interesting character — this is a man who has had a fairly prestigious career and now seems headed for the gutter. Detective fiction is full of flawed characters, but Harry sometimes seems to be all flaws.
Nesbo has written nine Harry Hole novels, according to his website, but not all of them are available in English. The settings range from hunting a serial killer in Australia to accidentally shooting a US Secret Service agent during President Clinton's visit to Norway. Harry always seems to be struggling to keep himself together, and I read the book hoping that this would not be the moment when he finally lost his grip. Now all I have to do is find enough of the series published in English to fill in Harry's backstory.
My copy of The Devil's Star
was a review copy provided free of charge.