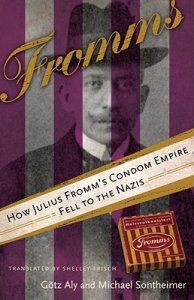 Julius Fromm was born in Russia in 1883; when he was 10 years old, his parents left Russia for Berlin. At the time, Berlin offered the hope of more economic opportunity and a better life. Fromm grew up feeling like a German, and a patriotic one at that. It all came to crushing end when Hitler came to power, because Fromm and his family — patriotic though they might be — were Jews.
Fromms: How Julius Fromm's Condom Empire Fell to the Nazis
by Götz Aly and Michael Sontheimer is a detailed account of how Julius Fromm built a condom empire during the sexually permissive-period after World War I. His name became synonymous with condoms in Europe, much the way Kleenex or Xerox became household names. But his wealth and status could not protect him or his family when the Nazis came to power.
Julius Fromm (born Israel Fromm) started his business empire rolling and selling cigarettes. It was an easy enterprise for an immigrant family — it required very little investment, no equipment, and everyone in the family could pitch in. The business sustained the family when Fromm's father died, leaving a widow and 6 children, but he had higher ambitions. In 1912 he began taking evening courses in chemistry and eventually hit upon the idea of making condoms.
And this is really the crux of this little book. If Julius Fromm had made kitchen chairs or spatulas or alarm clocks, there wouldn't be much of a story. What makes this an intriguing read is the little bit of naughtiness the story takes from the nature of Fromm's business. (Heaven knows, I found the phrase of "condom empire" amusing.) The book wouldn't really get off the ground without that. In that day and age, I can't imagine being the daughter of the man whose name was famous for such a product, and the stories about his difficulties with advertising his product show that, in some ways, things haven't really changed. After all, there are still restrictions on how condoms can be advertised, which is crazy in a day when we are dealing with AIDs, teenage pregnancy and other issues of sexual health.
There is some interesting history on the development of condoms and the processes used to manufacture them on both small and large scales. Fromm's knack for business extended to factories and business practices — his buildings and safety procedures were on the cutting edge at that time.
For readers interested in the history of Nazi Germany and the treatment of Jews during that period, there is a lot to learn in this small volume. The authors, Gotz Aly and Michael Sontheimer, provide an extremely detailed account of how Fromm's business fell victim to National Socialist policies. Even though he was extremely wealthy, backed by banks and other businessmen and able to pull some strings, Fromm was eventually forced to sell his business for a pittance to a hand-selected German buyer, even though other buyers were standing by with better offers. He and his family were hounded out of their home, and stripped of their possessions. The accounts are chilling. Policies and procedures were in place to make sure that everything of value was stripped from Jews who had been good German citizens and turned over to "pure" Germans with the right political connections. It's a part of the history I had only heard in the most general terms, and I found it frightening. It's easy to see how the wheels of bureaucracy could crush an entire people under them, if we don't keep tabs on our government.
My copy of Fromms: How Julius Fromm's Condom Empire Fell to the Nazis
was a review copy, provided free of charge. It's a quick, fascinating read for those interested in this shameful part of history.