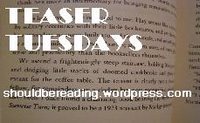 Welcome to another Teaser Tuesday!  You know how this works: grab your current read, open to a random page and share 2 teaser sentences (no spoilers, please).  Be sure to tell us about the book, so we can put it on our wish lists.  Be sure to check out all the teasers over at Should Be Reading.
Today, my teaser comes from The First Rule
by Robert Crais. The review should be posted soon — it's great detective fiction. Joe Pike is one of the most dangerous men you are ever likely to meet, which makes this all the more interesting:
"George Smith was one of the deadliest human beings Pike knew.  A gifted sniper.  An immaculate assassin."
If you run into George — or Pike — in a dark alley, you definitely want them on your side!  Now, what's teasing YOU this week?