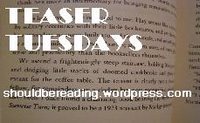 It's Tuesday and time for another teaser!  You know how this works: take your current read, open it up and choose two teaser sentences.  No spoilers, but be sure to tell us about the book. 
This week, I'm reading The Devil's Star
by Jo Nesbo. I do love my detective fiction, and this is a bit different from my usual fare. I am really enjoying it so far — check out this passage:
"That's when I learned a few things about food. One of which was that blood contains albumin, and if you pour blood into a pan of water over 65 degrees, the blood coagulates and becomes lumpy…When Anders tasted the lumps in the water and said they tasted of egg, I knew it was blood."
(I edited just a bit to get the good parts of the passage together.  And by the way, the story is set in Oslo, so I am betting they mean 65 degrees celsius.)
So, what's teasing YOU this week?