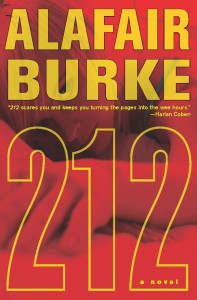 I really, really hate the phrase "ripped from the headlines."  It ought to be on one of those lists of cliches than can never ever be used again in print.  But open a newspaper or click on a news website and you are likely to see a story similar to Megan Gunther's situation in 212: A Novel
by Alafair Burke.  Megan finds herself the subject of some particularly nasty posts on a college gossip site.  The anonymous poster is familiar with Megan's schedule — he (or she) knows when Megan is at home, when she goes to spin class, when she has her chemistry lab.  She's a little freaked out; who wouldn't be?  The police are no help — there are no threats, so their hands are tied.  But when Megan turns up dead, her roommate critically wounded, someone finally decides to take things seriously.
The cyber crime is just the beginning.  NYPD Detective Ellie Hatchett is convinced that finding the anonymous poster will lead them to the killer, but that is not so easily done.  When Megan's roommate disappears from the hospital, you have to wonder — is she running from the killer, or does she have secrets of her own?  Why did Megan end up dead, but her roommate can lead cops on a citywide search?
There are almost too many threads to follow in this mystery.  Phone records lead to a real estate agent who claims she's never met Megan.  Suspects are not who police thought they were.  Eventually a trail leads to another high-profile crime — one that has the attention of powerful forces in the NYPD — but none of that seems to tie back to Megan.  There are plenty of twists and turns and the reader ends up in a place they would not have imagined at the beginning of the book.
Mostly, those are good things.  I wish the book had focused more on the cybercrime aspect — that's certainly the way it sells itself.  I find this aspect of the story the most interesting.  Crimes like identity theft and cyber-stalking are all over the news these days.  As someone who works online a great deal of the time, as well as paying my bills, maintaining a website, etc, I worry about my vulnerability.  Recent stories about teens who have been hounded — sometimes to death — by their peers over social networking sites make me glad I went to school back in the caveman days before the internet.  While this does play some part in the story, it's really a minor role, and that was a little disappointing.
If that part of the story wasn't wrapped up in a way I found particularly satisfying, although the book is still meaty with good detective work and great personalities.  Ellie Hatcher is very interesting (this is the third book in the Ellie Hatcher series) and I liked her interaction with her lieutenant, Robin Tucker.  Strong-willed women butting heads in a male-dominated workplace?  That's gonna be interesting.  Neither ends up being a cartoon, for which I was grateful.  Her partner, J.J. Rogan is also quite a character.  It should make for an interesting series — definitely worth picking up the earlier books, Angel's Tip and Dead Connection.
Alafair Burke is a former deputy district attorney, and now teaches criminal law at Hofstra Law School.  Writing is in her genes — Alafair is the daughter of celebrated crime writer James Lee Burke (I've got a few of his titles on my shelf).  According to her website, she traces her fascination with murder and mayhem back to growing up in Wichita, Kansas while the BTK Killer was on the loose.
My copy of 212: A Novel
was an Advanced Reader Copy, provided free of charge.