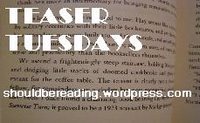 Welcome to another edition of Teaser Tuesdays!  I am just getting started in my latest book, Little Bee by Chris Cleave, so this is really random.  I was flipping through the pages and came across a section where the narrator is talking about how much she has in common with the Queen of England and it made me chuckle.  Thought I would share a few lines with you:
"The Queen smiles sometimes but if you look at her eyes in the portrait on the back of the five-pound note, you will see she is carrying a heavy cargo too.  The Queen and me, we are ready for the worst."
Does make you wonder what kind of cargo they are carrying, doesn't it?  What's teasing YOU this week?