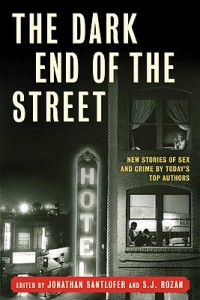 The premise behind The Dark End of the Street
is simple:
When we proposed this book to writers from both banks of the stream dividing crime writing and literary writing, we thought we had a particularly alluring idea.  Write your heart out on the twin subjects of sex and crime.  Define each however you want, take any approach you like.  What writer could resist?
The result is a terrific collection of stories from some of my favorite writers.  Editor S.J. Rozan (author of one of my favorite mystery series), introduces the collection and provides a particularly chilling story, "Daybreak", near the end of the volume.  Great writers and great writing are the rule here, and there is a little something for everyone.
They really did let the authors define sex and crime any way they wanted.  Some stories would barely garner a PG rating, a couple are far more racy.  The crimes are different, the criminals are different, and the approaches they take are all over the board — that's what makes it such a fun read.
The first story I fell in love with was "Scenarios" by Lawrence Block.  I love his work (P.I. Matthew Scudder, among other great novels).  For everyone who has ever read a mystery story and thought "oh no!  not that again!", this story lets you think through all the possibilities.
The very next story was also a great read, but in a totally different way.  "The Hereditary Thurifer" by Stephen L. Carter is the story of an Episcopal priest unraveling a mystery.  The story never goes in the direction I think it will, a mystery and a main character full of surprises.
"The Story of the Stabbing" by Joyce Carol Oates takes the theme of sex and death in a new direction – not so much about the crime itself as it is about the person who witnessed it.  "Tricks" by Laura Lippman is a great story about a conman and his next victim.
My favorite story of the bunch is "Midnight Stalkings" by James Grady (Six Days of the Condor).  I should have seen it coming.  I didn't and I was thrilled.
The book is full of great authors:  Patrick McCabe (author of Winterwood – marvelous and twisted), Janice Y. K. Lee (The Piano Teacher), Michael Connelly (9 Dragons), Lynn Freed (The Servants' Quarters).  Each author has their own slant on the book's themes — they all come at it from a different angle, but it's easy to follow the threads from story to story.
I realize that this is a review full links, but if you aren't familiar with these writers, you should be.  Click on the links, look at their bibliographies, find yourself some great new books.  If you're a fan of mysteries, definitely check out S. J. Rozan — I have several of her novels featuring Lydia Chin and Bill Smith.  They're an unusual detective team and the stories are terrific.
My copy of The Dark End of the Street
was an Advance Reader Copy provided free of charge.