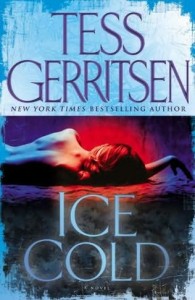 In Ice Cold by Tess Gerritsen, an unhappy woman makes an impulsive decision that leads to tragedy.  Stranded, cold and in danger, she has plenty of time to contemplate the choices that lead her here.  Pretty standard stuff, really, as far as mysteries go.  Luckily, Ice Cold has a handful of plot twists that keep the story moving along.  Good beach reading, when you need to cool off a little.
Maura Isles is not a happy woman.  She's having an affair with a priest, and really, how can that end well?  Their last phone call was pretty chilly and the doubts are eating away at her.  While attending a medical conference in Wyoming, she runs into Doug, an old college acquaintance — a handsome, charming, single fellow, whose memories of Maura as stable and focused and predictable make her question herself even more.  She makes a reckless and unpredictable decision: accompany Doug and his daughter, Grace, and a couple of friends on a weekend ski trip.  They'll drive up to the lodge, get in some skiing, hang around in front of their fireplace — maybe even find time for a little romance.  What could go wrong?
Well, a few bad decisions later, their car is stuck and they are stranded on a private road that won't be plowed until spring.  They find an abandoned village with the cheerful name of Kingdom Come and take shelter in one of the houses.  Kingdom Come is like wandering into the lost Roanoke colony – the houses are intact, windows open, food on the tables, but the people have simply disappeared.  It's creepy, but the group has few options in the midst of a blizzard with only their overnight bags.  They settle in to wait out the storm and decide what to do.  Exploring their temporary shelter, they find signs that things might be even creepier – and more dangerous than they thought.
When, a few days later, Maura's burned corpse is found in a ditch along with the other travelers, her friend Jane Rizzoli, a Boston police detective, gets involved.  Along with her husband, an FBI agent (how handy!), they try to find out what really happened to their friend.
There are plenty of twists and turns to the plot, which keep you guessing about what is actually going on.  I've enjoyed Gerritsen's work in the past but this one just didn't wow me.  As creepy as being stuck in an apparently abandoned fundamentalist stronghold might be, I just never really felt the danger, or got those little shivers you get when you read something that gets you truly engaged in the story.  I was just not able to lost myself in the blizzard and play along.
This is the seventh novel in the Rizzoli/Isles series.  I've read a couple of the others — The Mephisto Club and Body Double (another book in which Maura turns up dead) — and enjoyed them a great deal.  Tess Gerristsen is best know for her medical mysteries; she's an MD and the medical plots are always interesting.  The Rizzoli and Isles partnership is taking a new direction, as a tv series, "Rizzoli and Isles", debuting on TNT in July, starring Angie Harmon as Jane Rizzoli and Sasha Alexander as Maura Isles.
Ice Cold is scheduled for release on July 27, 2010, coinciding with the premiere of the tv series.  My copy was an Advanced Reader Copy, provided free of charge.