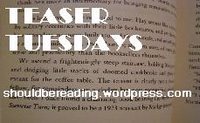 Welcome to another edition of Teaser Tuesdays!  You know the drill, grab your current read, pick 2 teaser sentences to share and don't spoil the big plot twist!
This week, I'm starting The Killing of Mindi Quintana by Jeffrey A. Cohen.  So far, it's everything I hate about life in corporate America.  I mean, doesn't this sound like the sort of thing your boss is thinking:
"The chocolate [manager] terminations are wonderful fun, Jamison explained, "because they are videotaped and shown at the upper-middle-management Christmas party.  The idea is to come up with the most outlandish — hence amusing — pretense for termination!"
I am pretty sure I've worked for that guy.
What's teasing you this week?