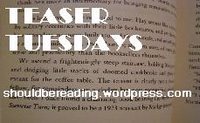 It's been a while since I had something I wanted to share on a Tuesday!  It's funny, I complain about how hard it is to keep up with the blog when I'm traveling, but when I take a little time off, my schedule really falls apart and it gets even harder.  Anyway, today's Teaser is from a book I finished on my flight yesterday: Mustaine: A Heavy Metal Memoir
, by Dave Mustaine of Megadeth. I posted earlier about the book signing and I really enjoyed the book – a good read, reflective, and fairly unflinching. I expect to be posting my review later this week. In the meantime, I had to try and choose amongst the many quotable bits. I decided on a bit of musical history, related while Dave Mustaine was hanging out with Kerry King of Slayer:
"I shared with him a bunch of stuff on the guitar, including the infamous Devil's tritone, a complicated musical interval spanning three tones.  The Devil's tritone requires some dexterity, but it's cool primarily because of the folklore attached to it.  For a period of time in the Middle Ages, the Devil's tritone was banned by the Catholic Church; supposedly, musicians who disregarded this edict were severely punished and sometimes beheaded."
Now, that's a lot of agitation over a bit of music!  What's teasing YOU this week?