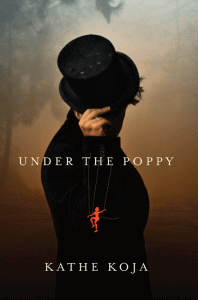 Under the Poppy
is a story of workplace romance and intrigue — that is, if your workplace happens to be a Belgian brothel in the 1870s and your coworkers are whores, mutes and puppets. It's a complicated arrangement: Decca and Rupert own a brothel. Decca is in love with Rupert. Rupert is in love with Decca's brother, Istvan, a traveling performer with a chest full of very naughty puppets. There is a lot of back-story amongst the three of them, everyone has secrets, and no one is telling the whole truth.  In the end, it may be up to the puppets, the mecs, to tell the story.
Good historical fiction makes you feel time period; with Under the Poppy, I felt it, I smelled it, I heard it. I was completely immersed in a fascinating landscape of characters and I became engrossed in their stories, even when I wasn't sure exactly where the story was going. I spent a lot of time looking up new words online, trying to familiarize myself with my new surroundings. All in all, an excellent escape from daily reality.
First of all, no one in this book uses their real names. Well, maybe some of the "quality" do, they have nothing to be embarrassed about, but our main characters are all on the run from something. They've changed their names, their family histories and their residences, but Decca, Rupert and Istvan keep coming together. There are strong bonds of history and attraction between them. Istvan is protective of the little sister he once knew, even if she has grown into a hard, cold businesswoman. Rupert and Istvan are in love, anyone can see that, but they also try to change each other — into a carefree vagabond or a steady, dependable partner. Hearts are bound to be broken.
There are outside influences as well. War is looming and the players are lining up their allegiances — as many as they can, even when those allegiances are in direct conflict with each other. Cover all the bases, make sure you have an escape plan and hope for the best.  Romance is in the air, conflicts with parents and siblings, and characters who challenge the day's sexual mores all influence the key characters.
I was totally caught up in this story, even when I was confused by the politics, the secret meetings and the back-stabbing. I'm still not sure I entirely understand the big picture, there was so much going on, so many lies, so many hidden agendas. There is also plenty of humor — there are puppets, horny puppets who say naughty things as a big part of the story — and romance, even in the bleakest winter. I was especially taken by the story of Isobel, a very fine lady, indeed. I was glad to see her get what she deserved. But the story does take place in a brothel, so be prepared for raunchy language, some fairly graphic content, and plenty of casual, if commercial, sex. And did I mention the naughty puppets?
Under the Poppy
kept me engaged from beginning to end. I love a story that grabs hold and keeps you turning pages, even when you should be working or sleeping; I will happily trade a few hours of sleep for a good book any day.
Soon, you'll be able to see Under the Poppy on stage. Koja has adapted her novel for the stage, with live music and actors, film, and puppetry. It will premiere at the Chrysler Black Box Theatre at the Detroit Opera House, home of the Michigan Opera Theatre, in 2011.
My copy of Under the Poppy was an Advance Uncorrected Proof, provided free of charge; it is scheduled for release on November 1, 2010. For more information, check out UnderthePoppy.com or watch the book trailer here.