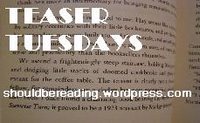 Time again for another Teaser Tuesday!  This time, I am getting my post ready to go ahead of time; I'm on the road and it's always difficult to get things posted when I'm in another time zone.  When I get up for work tomorrow, this will be ready to go.
This week's teaser comes from my current book, The Thousand Autumns of Jacob de Zoet
by David Mitchell.  I read Cloud Atlas
a few years ago and absolutely loved it and I have been meaning to read more of his work.
Because of my travels, a lot of my books seem to have a Dutch connection these days.  Jacob de Zoet is a young Dutch businessman, working in Japan, trying to amass his fortune and win the love of a reluctant bride.   I'm not very far into the book, but I am enjoying it very much.  From the trial of Daniel Snitker:
"'Duty'?" Vorstenbosch signals to Jacob to pause. "Our warehouses were burning to cinders whilst you, sir, romped with strumpets in a brothel — a fact omitted from that farrago of lies you are pleased to call your daily register."
Now that I think about it, my books have a brothel connection as well.  Hmmm…
That's teasing YOU this week?