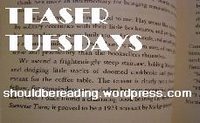 Welcome to another edition of Teaser Tuesday!  You know how this works by now: open your current book, pick two teaser sentences that will entice us to put it on our TBR lists.  Remember to tell us the name of the book and the author, and don't post any spoilers!
My book this week is Pray for Silence
by Linda Castillo, the second Kate Burkholder mystery.  Kate was born and raised Amish but didn't join the church, and she has returned to her hometown as chief of police.  In Pray for Silence she gets a late-night call and those are never from the lottery commission, verifying your winning ticket.
"Black droplets glittering in the moonlight.  Bloody footprints led down the steps to the sidewalk that led to the barn."
Add to that her description of the farmhouse, barn and silo in the pre-dawn darkness and you get a very eerie picture, in a place that should be serene.  This looks to be a very good mystery, and I'll be looking up her earlier work, as well.
You can check out more Teasers over at Should Be Reading and tell us – what's teasing YOU this week?