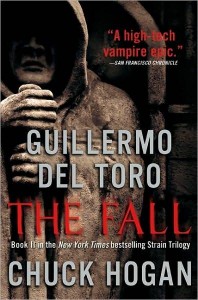 The news reports talk about riots, civil unrest, perhaps some sort of viral epidemic. They have to say that — who would take them seriously if they started talking about vampires?  In The Fall
, the second book in Guillermo del Toro's The Strain trilogy, nothing less than the future of mankind is at stake.
The people massing in the lowest levels of the World Trade Center reconstruction site are not gang-bangers, vandals or victims of some exotic flu. They're vampires. They've caught an age-old infection, an aggressive contagion, one that doesn't even require a bite. This epidemic is spreading like wildfire, crippling New York City as well as other major cities across the globe.
Ephraim Goodweather is no longer the CDC's golden boy. He has been discredited, accused of murder, and he's in hiding with mysterious pawn shop owner Abraham Setrakian. Eph wants to fight this with science, wants to believe that he can count on the the Powers That Be to come to their rescue, or at least to take them seriously. Instead, Eph, Setrakian and their pal, exterminator extraordinaire Vasily Fet, are on their own, or very nearly so. They may find that they have some truly unexpected allies.
There are a couple of interesting developments since the last book. Eph's son, Zack is being targeted by his mother, Kelly. Newly-turned vampires have a primal need to gather their Dear Ones and bring them into the fold. With all that Zack has seen, he still can't quite believe that his mother is a danger to him. Eldritch Palmer, multi-billionaire businessman may be working with the vampires, but he definitely has his own agenda. And even some of the vampires may not be what they appear to be. This is an ancient conspiracy, and we finally learn a little about what is driving The Master and his relationship to the other Ancients, as well as learning that Setrakian knows far more than he has revealed so far.
These are not sparkly, happy vampires. These are ugly, disgusting creatures; no sex appeal here.  Goodweather, Setrakian and Fet are literally fighting for the survival of the human race. This fast-paced thriller keeps you turning pages, building suspense even as it begins to reveal its secrets.
My copy of The Fall
was an Advanced Reader Edition, provided free of charge. The Fall hit the bookstores on September 21, 2010. For more information on the trilogy, check out The Strain Trilogy.com.