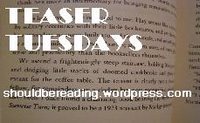 Welcome to another edition of Teaser Tuesdays!  You know how this works – take your current read, open it to a random page and give us a couple of teaser sentences.  Be sure to give us the info on the book (so we can add it to our TBR list) and also No Spoilers, Please!  Then head over to MizB's place for more teasers.
This week, I am finishing up Tutankhamun: The Book of Shadows
by Nick Drake. I'll read any good detective novel – doesn't matter if it's modern Manhattan or ancient Egypt. This is an interesting one – and I'm a little worried about how our hero, Rahotep, will get himself out of this one. Here, he is talking about his audience with Tutankhamun:
In his presence, I felt earthbound; he seemed like a rare species that could only survive in a carefully protected environment of shade, secrecy and utter luxury. I would not have been surprised to see beautiful feathered wings folded beneath his shoulder blades, or tiny jewels among his perfect teeth.
And don't forget my latest giveaway! I posted a teaser from this one last month, and now I've got the book, art book and music cd to give away. It's a numbered, limited edition package, so be sure to sign up!